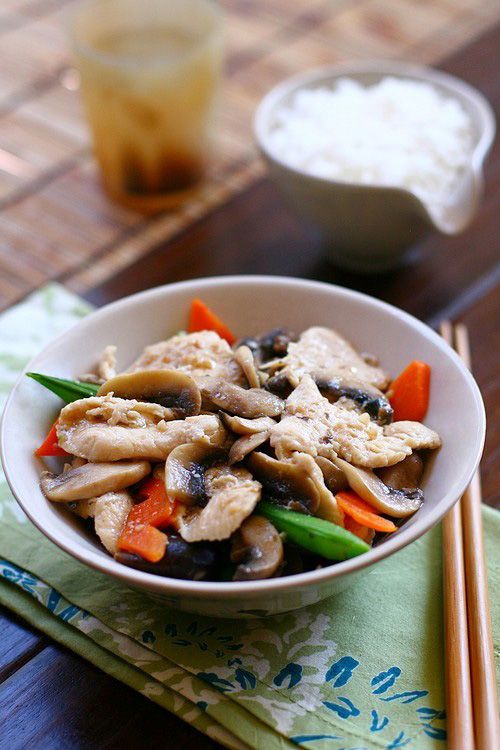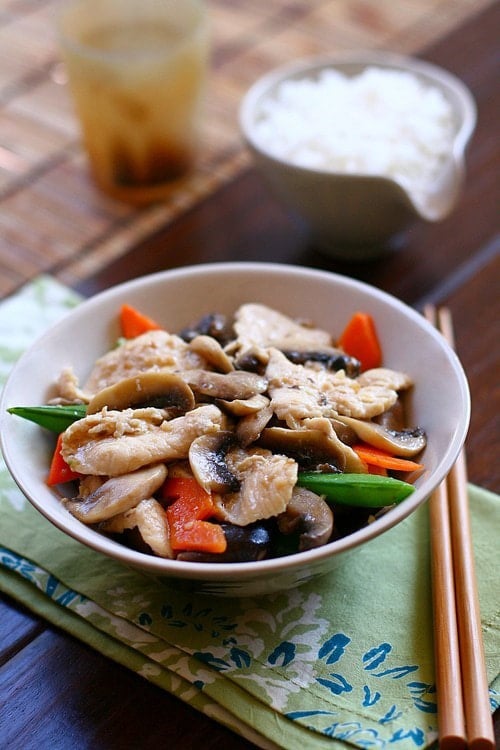 Moo Goo Gai Pan Recipe
An easy Moo Goo Gai Pan recipe that you can make at home with chicken, mushroom and veggies. | rasamalaysia.com
Prep Time: |
Cook Time: |
Total Time:
Ingredients:
10 oz chicken breast fillet, cut into 1/8-inch thick slices
1/3 cup oil
2-3 cloves garlic, peeled and minced
1/4 cup mixed vegetables (snow peas/sugar snap peas and carrots)
1 cup mixed mushrooms (button mushroom, thickly sliced and straw mushroom)
Salt and sugar as per taste
1 egg white
A pinch of ground white pepper
1/2 teaspoon salt
White Sauce:
1/4 cup chicken broth
1 tablespoon light soy sauce
1/4 teaspoon sesame oil
1/2 tablespoon sugar
3 dash of ground white pepper
1 tablespoon Shaoxing wine, or any Chinese cooking wine
1 teaspoon cornstarch
Method:
In a bowl, prepare the marinade. Lightly beat the egg white, and mix well with the rest of the marinade ingredients. Marinade the chicken, coat well and let it sit, making sure that all the egg whites are well soaked at the end of the marination process. This will ensure a smooth and silky texture when the chicken is cooked. Discard any excess marinade.
In a wok, heat 1/3 cup of oil to smoky hot, gently drop slices of chicken in, constantly stir-fry until the chicken is a little over half done, for about 45 seconds, or until the chicken turns silky white on the surface and still pink on the inside. Dish out, drain on paper towels and set aside. Reserve 2 tablespoon oil for later. Scrape off any excess on the wok, and rinse the wok well.
Heat up wok with 2 tablespoons oil, stir-fry minced garlic until lightly browned and fragrant. Toss in the peas, carrots and continue to stir-fry for 2 minutes. Add in mushrooms and stir-fry for another 1-2 minutes.
Toss in the chicken, mix well and quickly pour in the White Sauce seasoning. Stir well, cover the wok and gently simmer on medium heat until chicken is completely cooked and sauce has thickened. Remove wok cover, adjust salt, sugar, or other flavorings as per taste. Dish up and serve with hot steamed rice.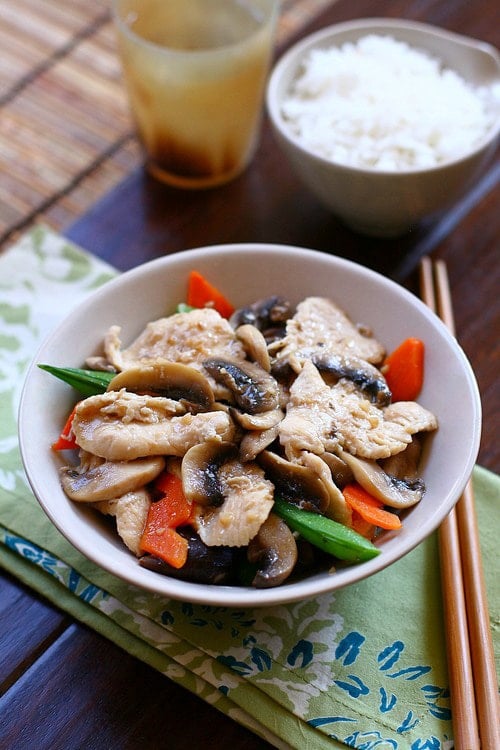 Aside from all the wonderful BBQ I get to enjoy every summer, I like the long daylight hours where I get to spend more time outdoors playing with my son, shopping, and getting chores done. When the heat cools down, I like to cook a simple one-pot meal before turning in. Summertime for me is all about preparing easy, delicious one-pot meals (more time having fun outside!) that is convenient for a late night dinner or supper and still have leftovers for for lunch the next day. However, it really doesn't matter what season it is, I've always been a big fan of comfort foods and Moo Goo Gai Pan is just one of them! If you have not heard of Moo Goo Gai Pan, it's a popular chicken and mushroom dish commonly found in most Chinese take-outs, Chinese buffets in the Midwest (during my college days), the East Coast, and the Southern states of America.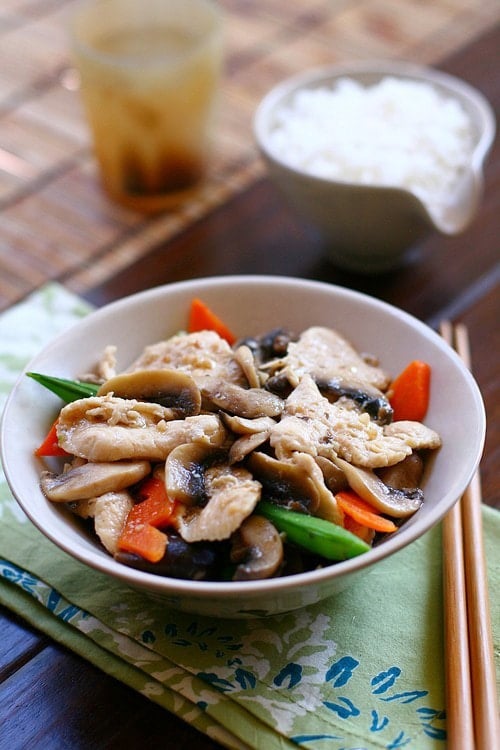 Moo Goo Gai Pan is actually a classic Chinese stir-fry dish. It's a popular Cantonese version of a simple chicken and mushroom dish stir-fried in a tasty white sauce. In the Cantonese dialect, Moo Goo means mushroom and Gai Pan means chicken slices. Chicken and mushroom are always a great combination. Once again, it's another delicious, easy to prepare one-pot meal that has made its mark in many Asian households throughout America. The American-Chinese version of Moo Goo Gai Pan however, has a slightly different take. Sharing the same tasty white sauce, the overall dish is more vibrant and filled with more colorful vegetables than the classic Cantonese version. Snow peas, carrots, bamboo shoot slices, and sometimes baby corn and water chestnut slices are added to the dish.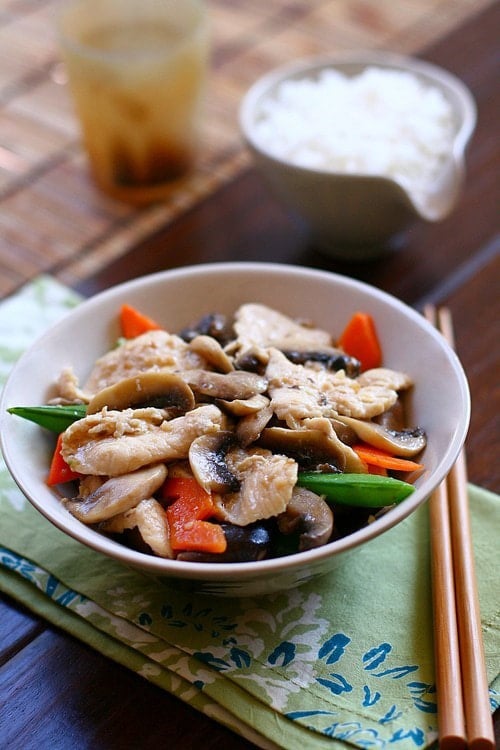 Rate This
Recipe Name
Preparation Time
Cook Time
Total Time
Average Rating

Based on 3 Review(s)