Chicken Satay Recipe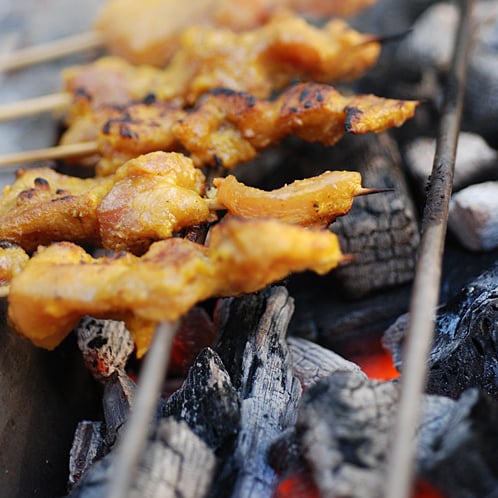 http://rasamalaysia.com/recipe-chicken-satay/
(Originally published on 9/4/2006. Updated with new pictures.)
Malaysian Satay—those little skewers of meat with satay peanut sauce and ketupat (Malay rice cake) is a very popular dish in Malaysia. Walk down any street in the country and the mouthwatering aroma of satay exudes from practically every corner you pass: roadside satay stalls, hawker centers, pasar malam (night markets), kopitiam (Chinese coffee shops), and even high-end restaurants…
Of course satay is universally loved across Southeast Asia. (It's commonly believed that satay is the region's distant cousin to the Middle-Eastern kebabs, thanks to the spice route and the culinary influence of the early Arab traders.) However each country has their own interpretation for satay, influenced by their own unique food culture and distinct palate. For instance, Indonesian satay tend to be sweeter because of kecap manis (sweet soy sauce) while the Thai satay is slightly less sweet since coconut milk is used instead…
No surprise then that Malaysian Satay is made with ingredients and spices commonly found in Malaysian cooking; shallots, lemongrass, turmeric powder (kunyit), and coriander powder. The basic recipe calls for the cook's meat of choice—be it chicken, beef, lamb, or pork—to marinate for many hours or even overnight so as to lock in the flavor. In addition to the peanut dipping sauce, Malaysian satay is served with ketupat, onions, and cucumber. Trust me, the taste of these side dishes complement each other exquisitely.
When I make chicken satay at home I often save time by using off-the-shelf satay marinate powder such as Ayam brand satay seasoning (aka "cheated"), but the existence of Rasa Malaysia has motivated me to try making everything from scratch, if possible. So I will admit to modifying the traditional and authentic Malaysian chicken satay recipe with a tint of kecap manis and Chinese oyster sauce substituting for salt and sugar. But as you can infer from these pictures, the end results were delicious. You can almost smell the enticing aroma of the chicken satay from your computer screen, can't you?
Click Images Below for Similar Recipes:
LOVE THE RECIPE & PHOTOS? PLEASE SHARE:
Sign Up for Email Updates
Enter your email for new updates: recipes, giveaways, and more!