Shrimp Gyoza - amazing Japanese gyoza dumplings filled with shrimp and cabbage. Crispy, juicy and so easy to make at home!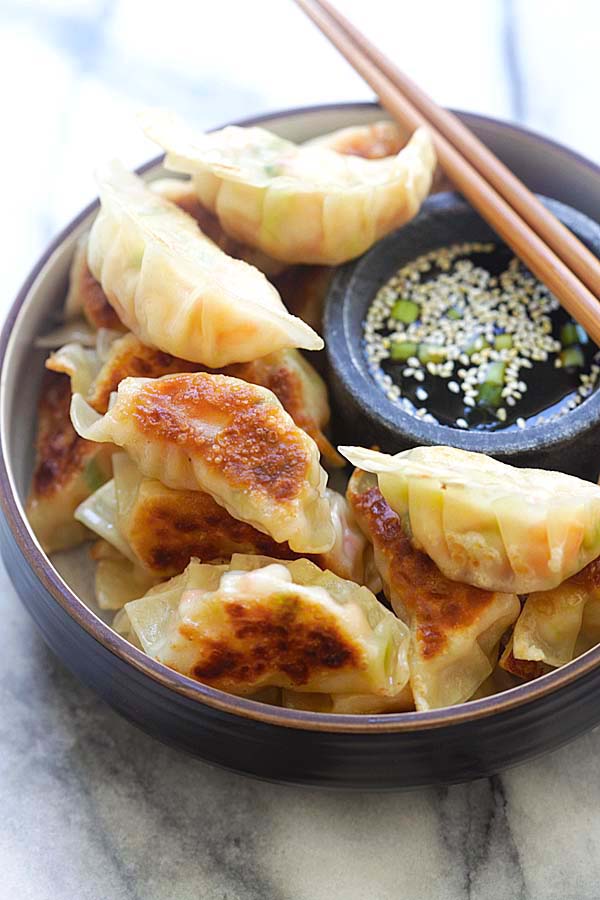 I love gyoza, all sorts of gyoza. Traditional gyoza with pork filling, pork and shrimp filling, or pork and mushroom filling.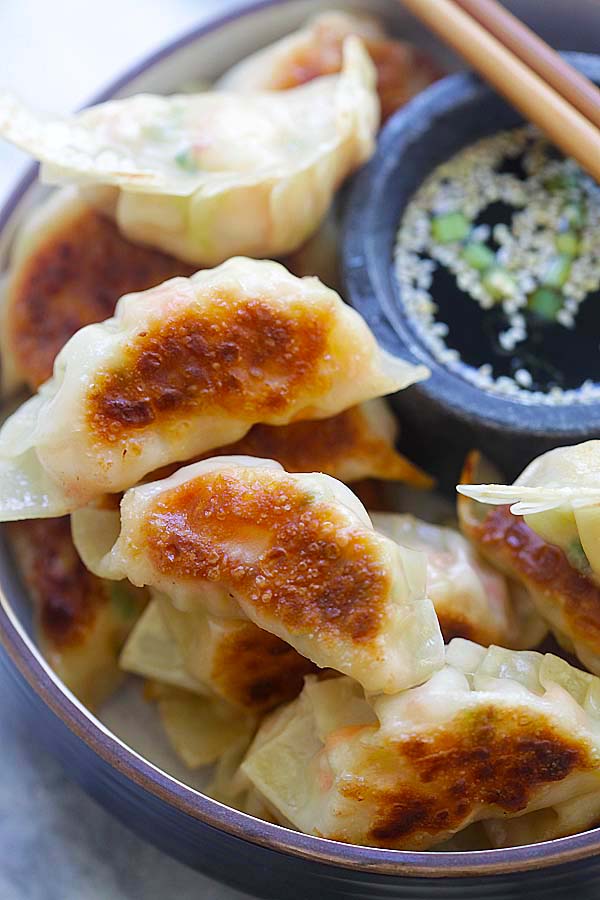 Gyozas are absolutely delicious and I can eat them every day!
Other Recipes You Might Like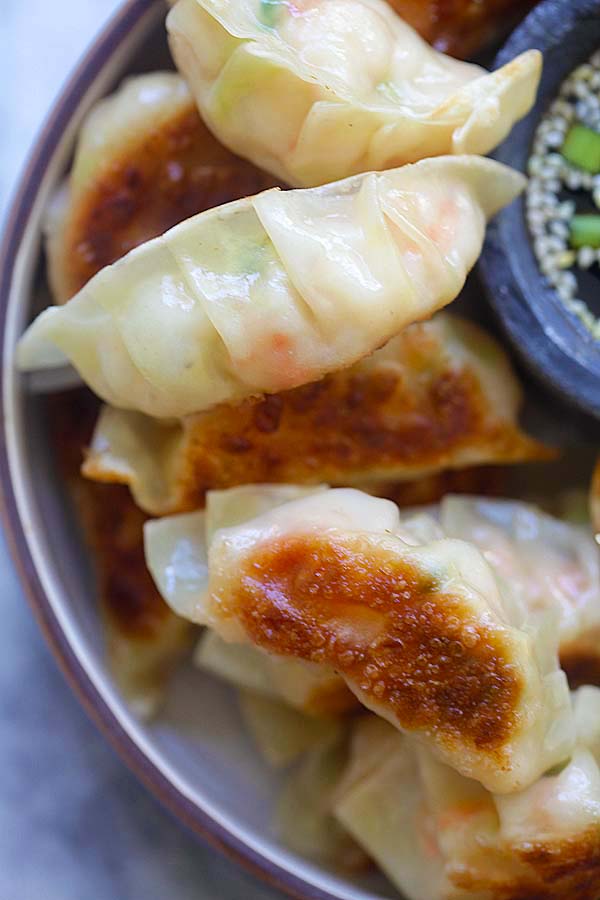 However, I love shrimp so my favorite gyoza is probably shrimp gyoza, filled with pieces of shrimp with shredded cabbage and chopped scallions. The ingredients are so simple, but when you have a morsel of wrapped protein with dough skin, pan-fried and steam to golden perfection, you have a winner.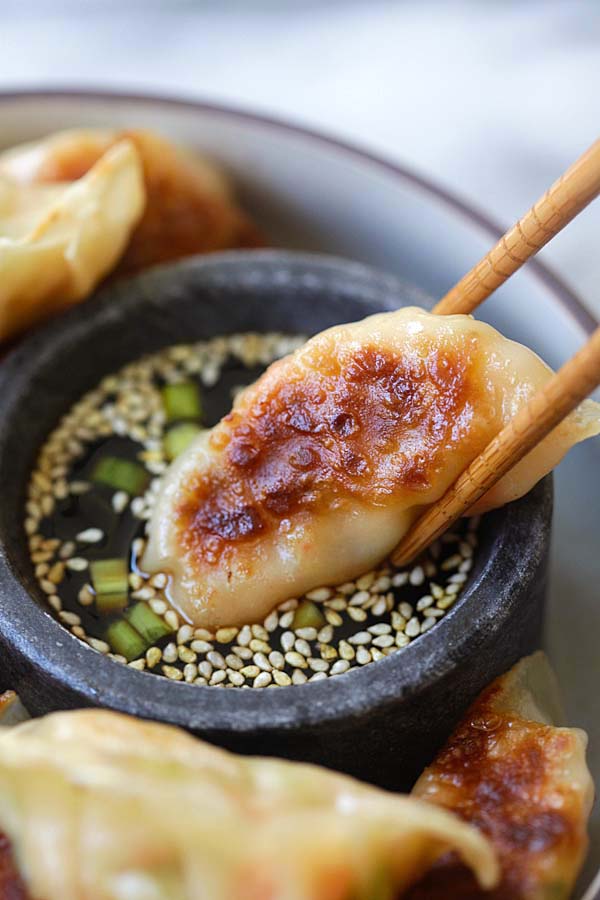 This shrimp gyoza recipe is very easy to make at home. You can make a big batch and freeze them. Never mind that if you can't fold and pleat them properly…just fold them up in a half-moon shape. They will taste equally flavorful nonetheless.
How Many Calories Per Serving?
This recipe is only 192 calories per serving.
What Dishes To Serve with this Recipe?
For a wholesome meal and easy weeknight dinner, I recommend the following recipes.
5 Secrets to 20 Min Dinners
Get tricks for quick & easy meals!
Yield: 5 people
Shrimp Gyoza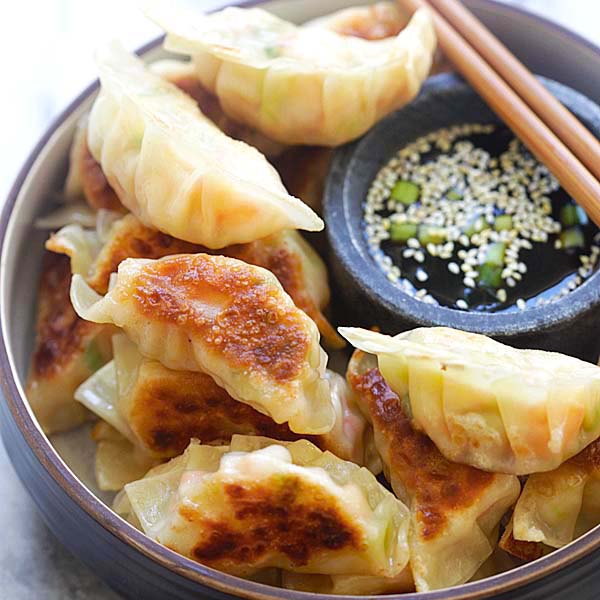 Shrimp Gyoza - amazing Japanese gyoza dumplings filled with shrimp and cabbage. Crispy, juicy and so easy to make at home.
Ingredients
12 oz. (340 g) peeled and deveined shrimp, cut into small pieces
1/2 teaspoon grated ginger, optional
1/2 cup shredded cabbage
1 tablespoon chopped scallion
1 teaspoon Japanese cooking sake
1 teaspoon mirin
1 teaspoon sesame oil
1 tablespoons oil for pan-frying
1/2 cup water
Ponzu sauce for dipping
white sesame for garnishing
1/2 teaspoon salt
Instructions
Combine the shrimp, ginger (if using), cabbage, scallion, sake, mirin, salt and sesame oil in a bowl, stir and mix well to form a sticky filling.
Place a piece of gyoza wrapper on your palm and spoon about 1 heaping teaspoon of the filling onto the wrapper. Do not overfill. Dip your index finger into a small bowl of water and circle around the outer edges of the gyoza wrapper. Fold the gyoza over to form a half moon shape and pleat and pinch the folds, as pictured above. Finish by pressing the edges with your thumb and index finger to ensure that the dumpling is sealed tightly and there is no leakage. Place the gyoza on a floured surface or baking sheet.

Using a non-stick skillet (preferred) to pan-fry the shrimp gyoza. Add 1 tablespoon of oil on medium-low heat, then arrange all the gyoza on the skillet. Pan fry the gyoza until the bottom turns golden brown and crispy. Add the water and cover it with the lid. Steam the gyoza until the water completely evaporates. Serve the gyoza warm with the Ponzu sauce.
Nutrition Information
Serving Size
5 people
Amount Per Serving
Calories

192
Total Fat

5g
Saturated Fat

3g
Cholesterol

174mg
Sodium

943mg
Carbohydrates

18g
Fiber

1g
Sugar

1g
Protein

17g