Sweet and Sour Pork - The secret to this popular Chinese recipe is in the sweet tangy sauce. Learn how to make easy sweet and sour sauce at home!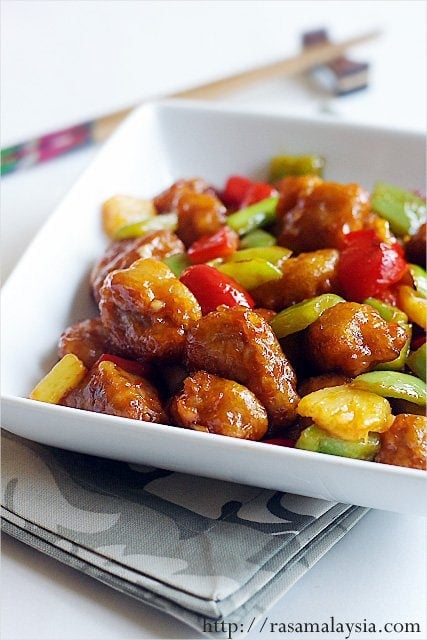 What Is Sweet and Sour Pork?
Sweet and Sour Pork is an iconic Chinese recipe and classic Cantonese dish.
Called "咕嚕肉" or "goo lou yok" in Cantonese dialect, this recipe is very pleasing to the palate because of the flavorsome sweet and sour sauce—the sweetness from sugar plus the tangy ketchup and sharp rice vinegar—with the crispy fried pork pieces.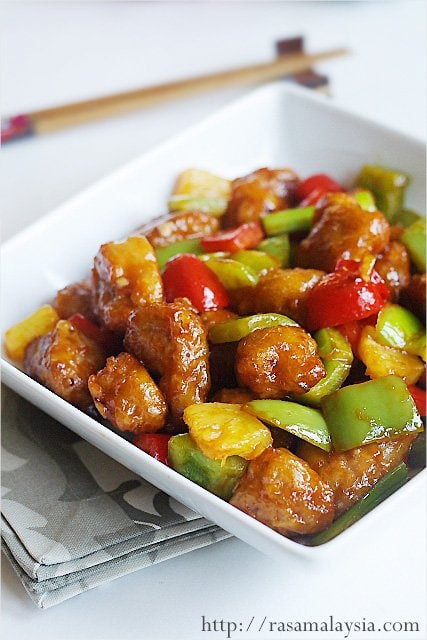 Other Recipes You Might Like
Delicious Sweet and Sour Sauce
The secret of an authentic sweet and sour pork dish lies in the perfect balance of the sweet vs. sour taste of the sauce, the soul of this dish.
I am going to teach you how to make perfect homemade sweet and sour sauce and share my secret ingredients!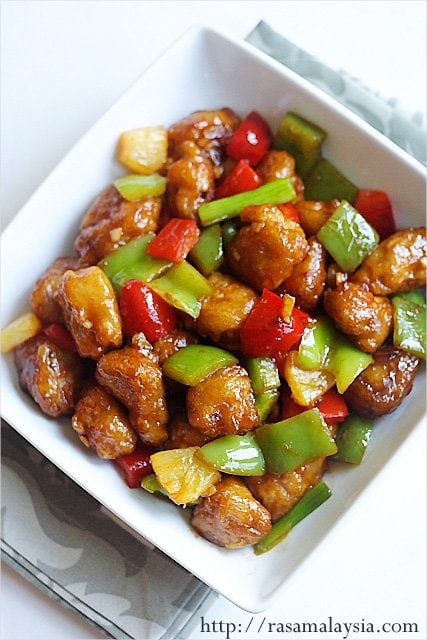 Secret Ingredients
Other than rice vinegar and ketchup, I also use Chinese plum sauce to add some extra zing, plus a few dashes of Lea & Perrins Worcestershire Sauce and oyster sauce to complete the perfect balance of flavor.
Once you master the techniques of homemade sweet and sour sauce, you can make authentic and restaurant quality Chinese food at home!
Plum Sauce
Lea & Perrins Worcestershire Sauce
Oyster Sauce
Crispy Frying Batter
The frying batter for the pork is equally important. The fried pork has to be crispy, airy and crunchy, so when they are stir-fried with the sweet and sour sauce, the pork will remain crispy and not soggy and swim in the sauce.
How Many Calories per Serving?
This recipe is only 402 calories per serving.
Serve Sweet and Sour Pork With:
For a wholesome dinner, I recommend the following dishes.
5 Secrets to 20 Min Dinners
Get tricks for quick & easy meals!
Yield: 2 people
Sweet and Sour Pork Recipe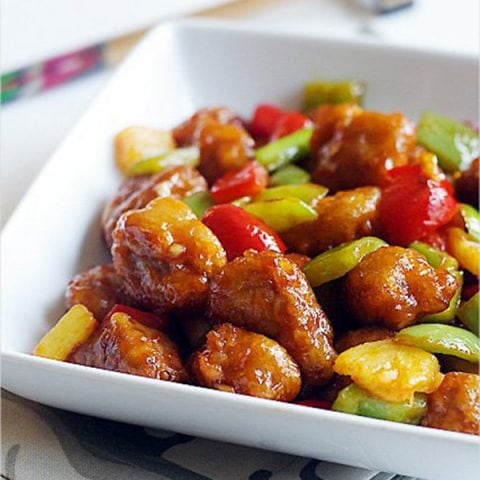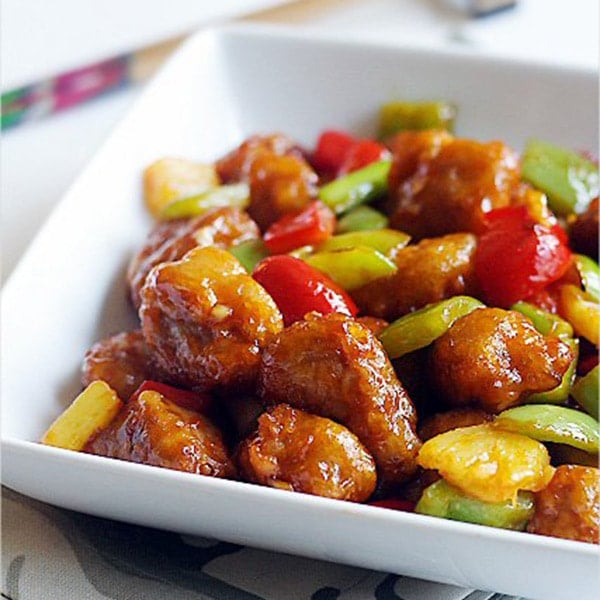 Authentic sweet and sour pork recipe that is better than your favorite Chinese restaurants.
Ingredients
1/2 lb. (0.2 kg) pork tenderloin, cut into bite size pieces
1/2 green bell pepper, about 2 oz. (56 g) and cut into pieces
1/2 red bell pepper, about 2 oz. (56 g) and cut into pieces
2 stalks scallions, only the white part, cut into 2 inch length
1 piece fresh/canned pineapple ring, cut into small pieces
1 clove garlic, finely chopped
oil for frying
Marinade:
Frying Batter:
2 oz. (56 g) all-purpose flour
1 oz. (30 g) corn starch
1/2 teaspoon baking soda
1/2 egg
1/2 cup water
1 teaspoon cooking oil
1 pinch salt
Sweet and Sour Sauce:
1 1/2 tablespoons tomato ketchup
1 teaspoon plum sauce
1/8 teaspoon Chinese rice vinegar, transparent in color
1/2 teaspoon Lea & Perrins Worcestershire Sauce
1 teaspoon oyster sauce
1 teaspoon corn starch
1 teaspoon sugar
2 tablespoons water
Instructions
Cut the pork tenderloin into pieces and marinate with the ingredients for 15-20 minutes.
Mix the sweet and sour sauce ingredients well and set aside.
Strain the dry ingredients of the frying batter and then add in the egg, water, and cooking oil to form a thick batter.
When the pork is well-marinated, transfer the pork pieces into the batter and make sure they are well coated. In a deep skillet, add in the cooking oil enough for deep-frying. Once the oil is hot, deep fry the pork pieces until they turn golden brown. Dish out and drain on paper towels.
Heat up a wok and add in some cooking oil. Add in the chopped garlic and stir fry until light brown, then follow by the bell peppers and pineapple pieces. Stir fry until you smell the peppery aroma from the peppers and then add in the sweet and sour sauce. As soon as the sauce thickenens, transfer the pork into the wok and stir well with the sauce. Add in the chopped scallions, do a few quick stirs, dish out and serve hot with steamed white rice.
Nutrition Information
Serving Size
2 people
Amount Per Serving
Calories

402
Total Fat

8g
Saturated Fat

2g
Cholesterol

115mg
Sodium

758mg
Carbohydrates

52g
Fiber

3g
Sugar

11g
Protein

29g