Buttery Garlic Parmesan Chicken - amazing skillet chicken covered with garlic and Parmesan cheese. Made with the simplest ingredients but SO good!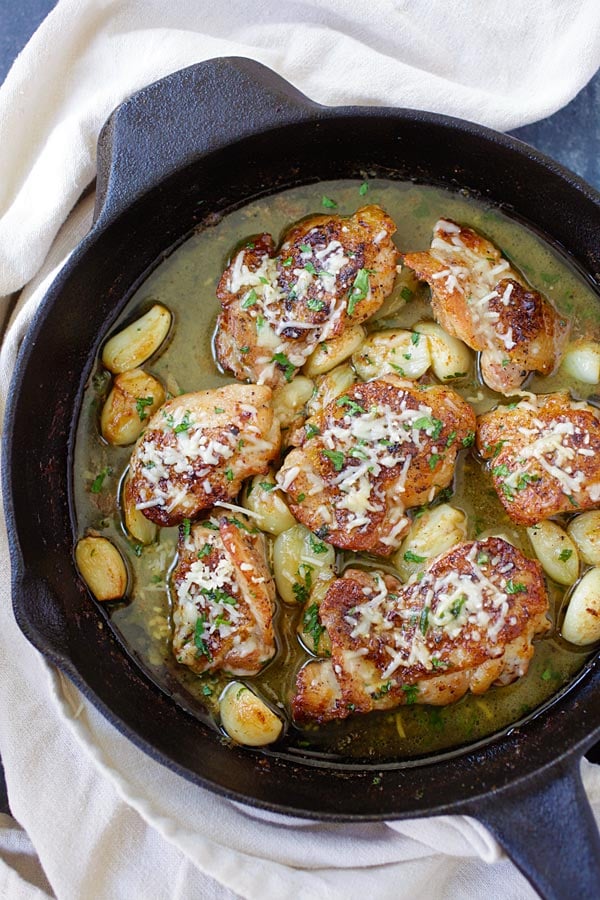 The Best Garlic Parmesan Chicken
Today I am sharing with you an easy and super delicious recipe that is sure to please your stomach and make your family love you even more: buttery garlic parmesan chicken that hits all the right notes. Crispy chicken, buttery sauce, cheesy, rustic and homey!
A few months ago, I posted a creamy garlic chicken recipe and that recipe is quickly becoming one of the most popular chicken recipes with my readers. Many people have tried the recipe with great success and can't stop raving about how good the dish is.
This recipe is easier, simpler, with everyday ingredients that you already have in the fridge: butter, garlic, chicken and Parmesan cheese.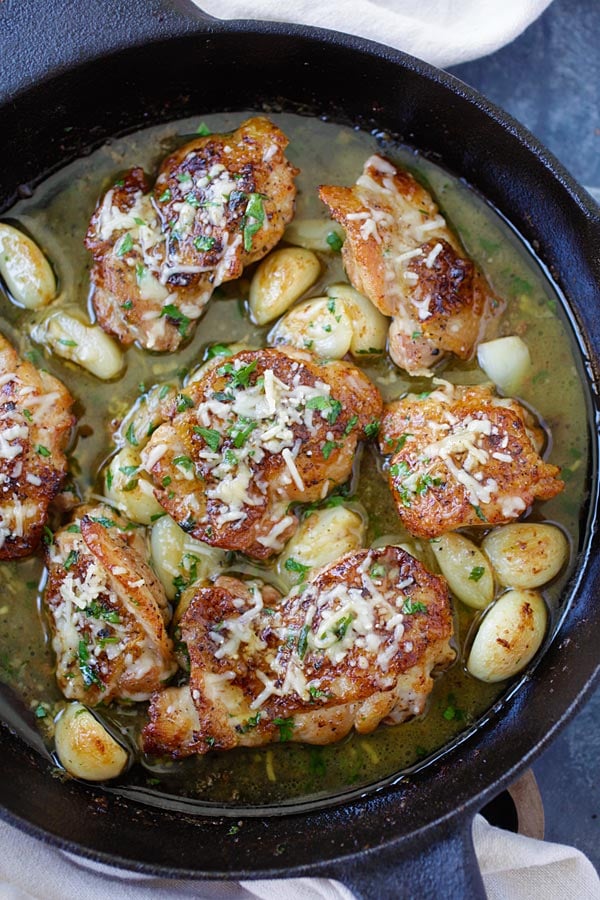 Other Recipes You Might Like
Ingredients for Garlic Parmesan Chicken
Chicken thighs
Black pepper
Melted butter
Garlic
Italian parsley
Parmesan cheese
White wine, beer, or champagne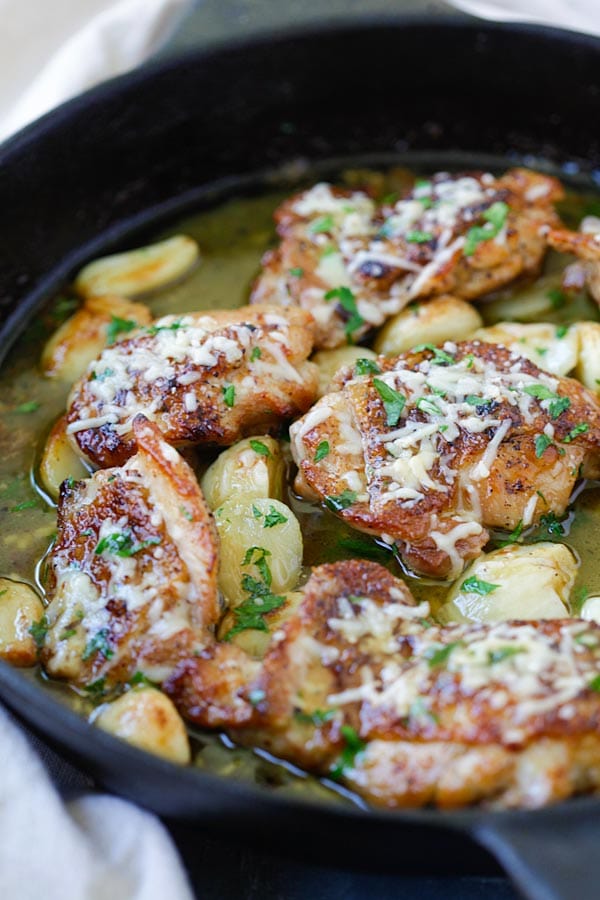 Cook's Tips
There is no need for any herbs like thyme or rosemary because it's already SO delicious.
There is also no need for chicken broth.
I did use white wine because I always have it in my home, but you can do without it or use beer or champagne, or just skip it and use water. So easy, so versatile, no-fuss, but SO delicious.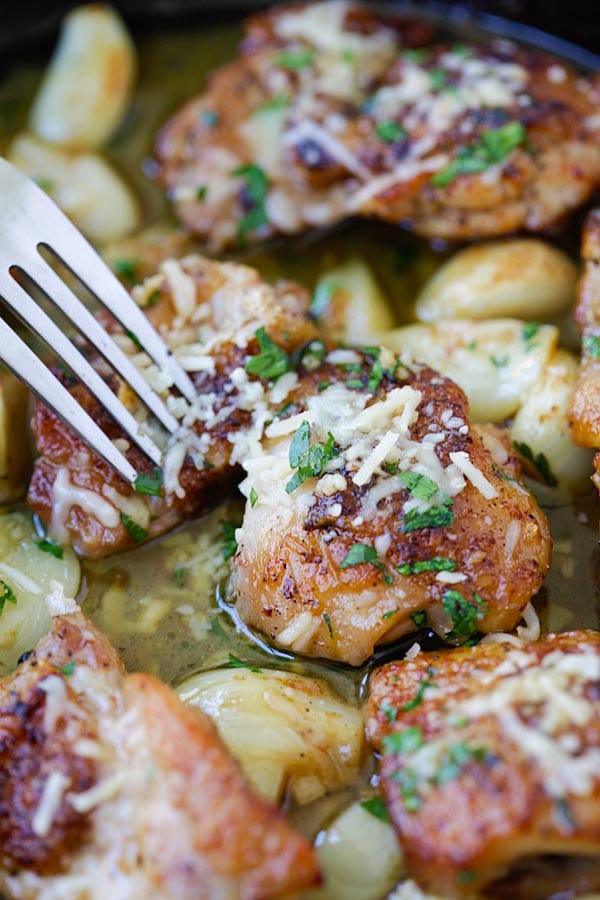 Frequently Asked Questions
Are Chicken Thighs Dark Meat?
Yes, chicken thigh is considered dark meat because they are different types of muscle.
How Do You Know When Chicken Thighs Are Cooked?
If you see a lot of pink around the bone, you should cook for a couple more minutes. If you want to be accurate, you can use a meat thermometer to see if it has reached 160°.
How Many Calories?
This recipe has 486 calories per serving.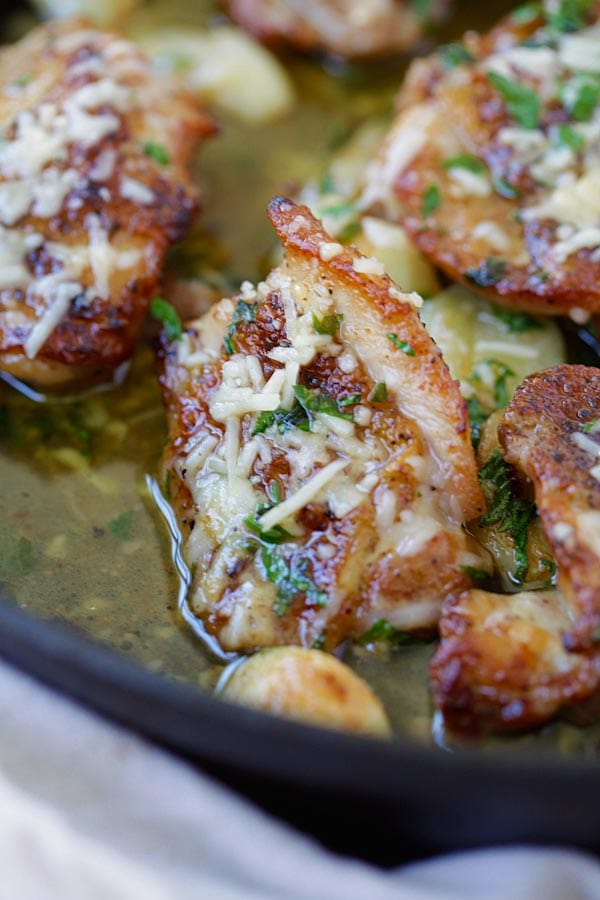 The great thing about this dish is that the mouthwatering smell lingers in my house even after dinner was served, and this recipe will certainly become another favorite chicken recipe for my family.
You just have to try it yourself, I guarantee that it's totally worthy!
What Dishes to Serve with This Recipe?
This meal is best served as the entree. For a wholesome meal and easy weeknight dinner, I recommend the following recipes.
5 Secrets to 20 Min Dinners
Get tricks for quick & easy meals!
Yield: 3 people
Buttery Garlic Parmesan Chicken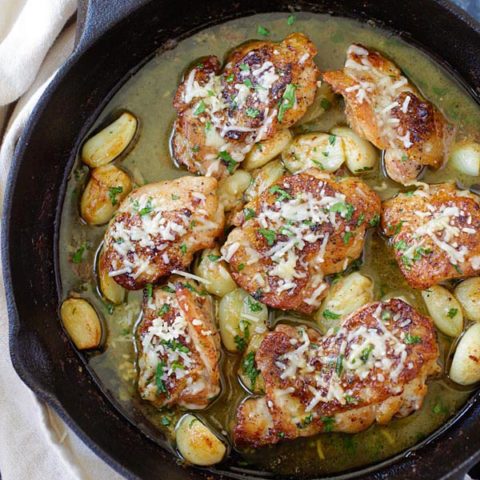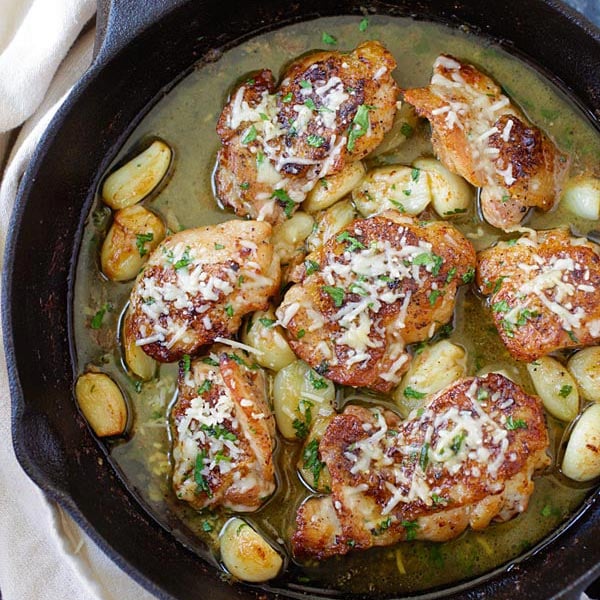 Buttery Garlic Parmesan Chicken – amazing skillet chicken with garlic and Parmesan cheese. Made with simple ingredients but SO good!
Ingredients
1 1/2 lbs. (0.6 kg) chicken thighs, skin-on and deboned
salt
ground black pepper
3 tablespoons melted butter
20 cloves garlic, peeled and gently smashed
1/4 cup white wine, beer, or champagne
1/4 cup water
1 pinch cayenne pepper
1 tablespoon Italian parsley
1/3 cup parmesan cheese
Instructions
Season the chicken with a little salt and black pepper.
Heat up a skillet (cast-iron skillet preferred) on medium heat, add a little bit of butter. Pan-fry the chicken with the skin side down first, until both surfaces become crispy or nicely browned. Remove the chicken from the skillet and set aside.
Add the remaining melted butter and saute the garlic until light brown. Add the chicken back into the skillet, follow by the white wine and water. Lower the heat and let simmer. Add salt to taste and a pinch of cayenne pepper. Reduce the sauce a bit. Add the chopped parsley and top the chicken with Parmesan cheese. Remove from heat and broil the chicken in the oven until the cheese melts. Serve immediately.
Notes
You may use bone-in chicken thighs, but for best results, debone the chicken thighs but keep the skin on. If you don't have wine, skip it and use 1/2 cup water instead of 1/4 cup. You may melt the cheese by covering the skillet for a little bit until the cheese melts. You don't have to broil the chicken in the oven but broiling makes it better and also char the skin a little bit.
Nutrition Information
Serving Size
3 people
Amount Per Serving
Calories

486
Total Fat

52g
Saturated Fat

19g
Cholesterol

260mg
Sodium

360mg
Carbohydrates

8g
Fiber

1g
Sugar

1g
Protein

42g