Cilantro Lime Chicken
- juicy Mexican chicken marinated with cilantro, lime juice and garlic. Pan-fry, bake or grill the chicken with this easy recipe! Serve with side dishes such as
Cilantro Lime Rice
,
Tequila Lime Shrimp
or make taco salad with the chicken.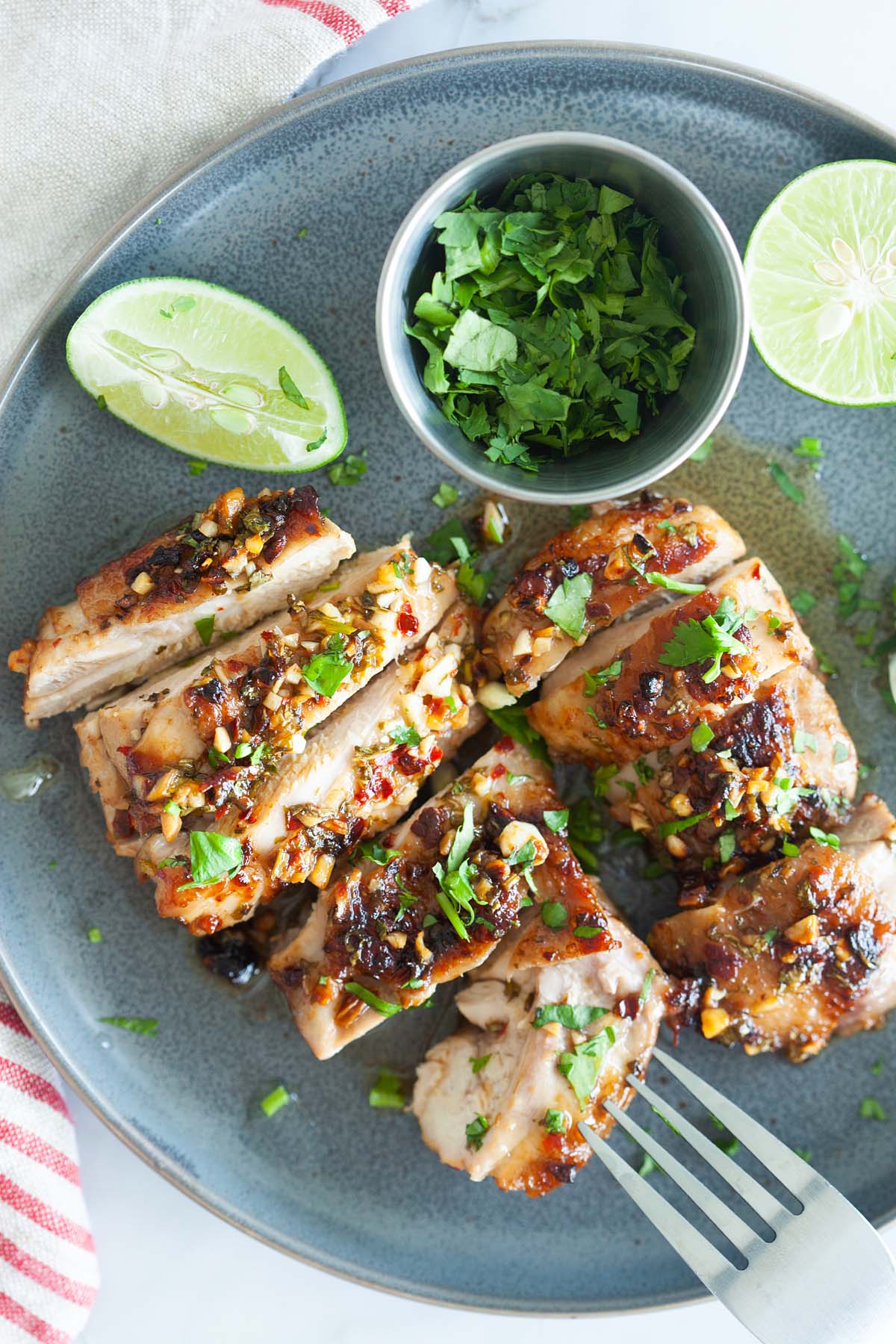 How to Make Cilantro Lime Chicken?
Zesty, moist, juicy baked chicken with mouthwatering marinade is sure-fire way to tantalize your palate and appetite. This is one my favorite Mexican recipes and I have the perfect baked cilantro lime chicken recipe for you.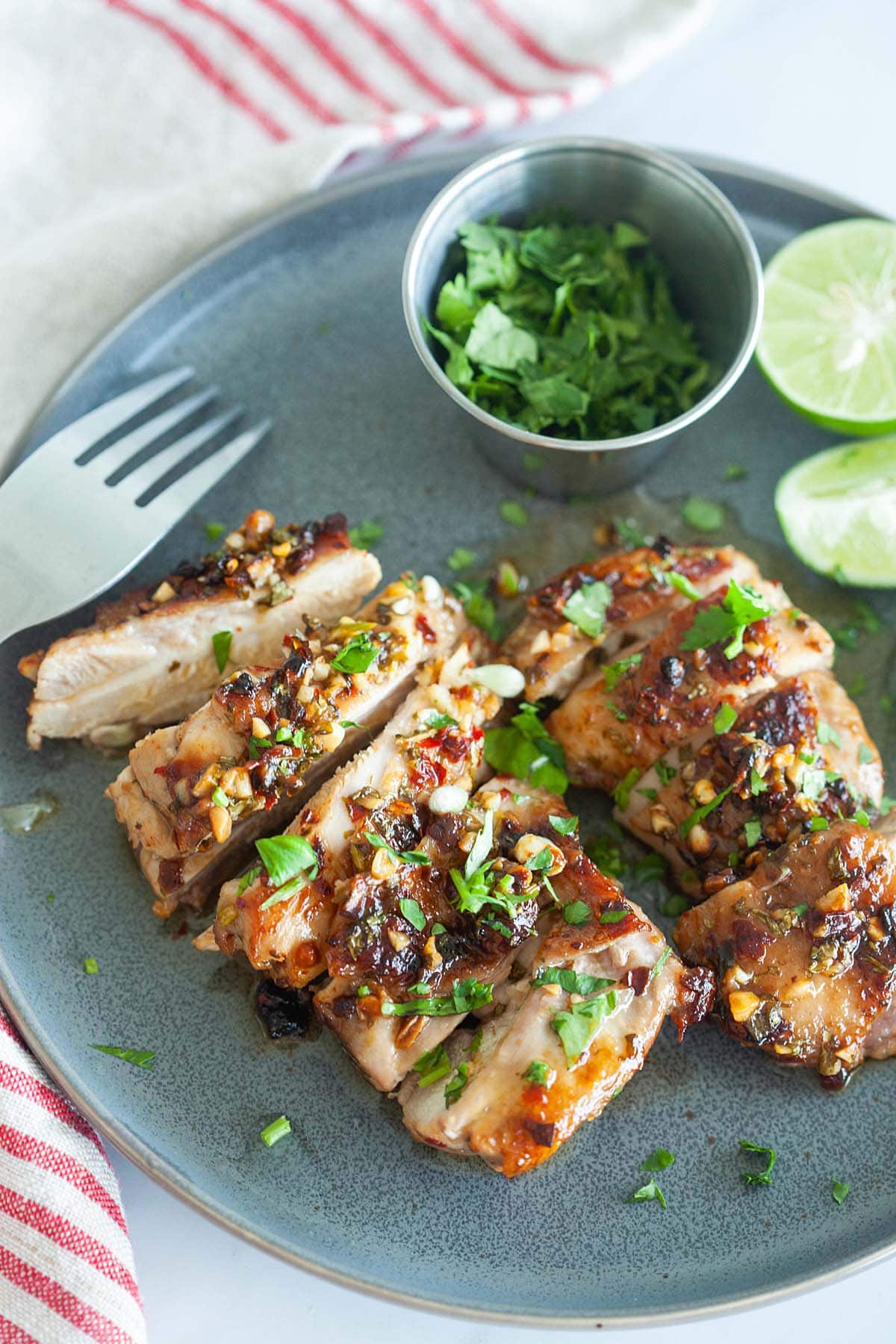 This recipe couldn't be any easier as simple ingredients are all you need. Aromatic cilantro, fresh lime juice, garlic, chili flakes are the main ingredients that bring out the explosive flavors of the chicken.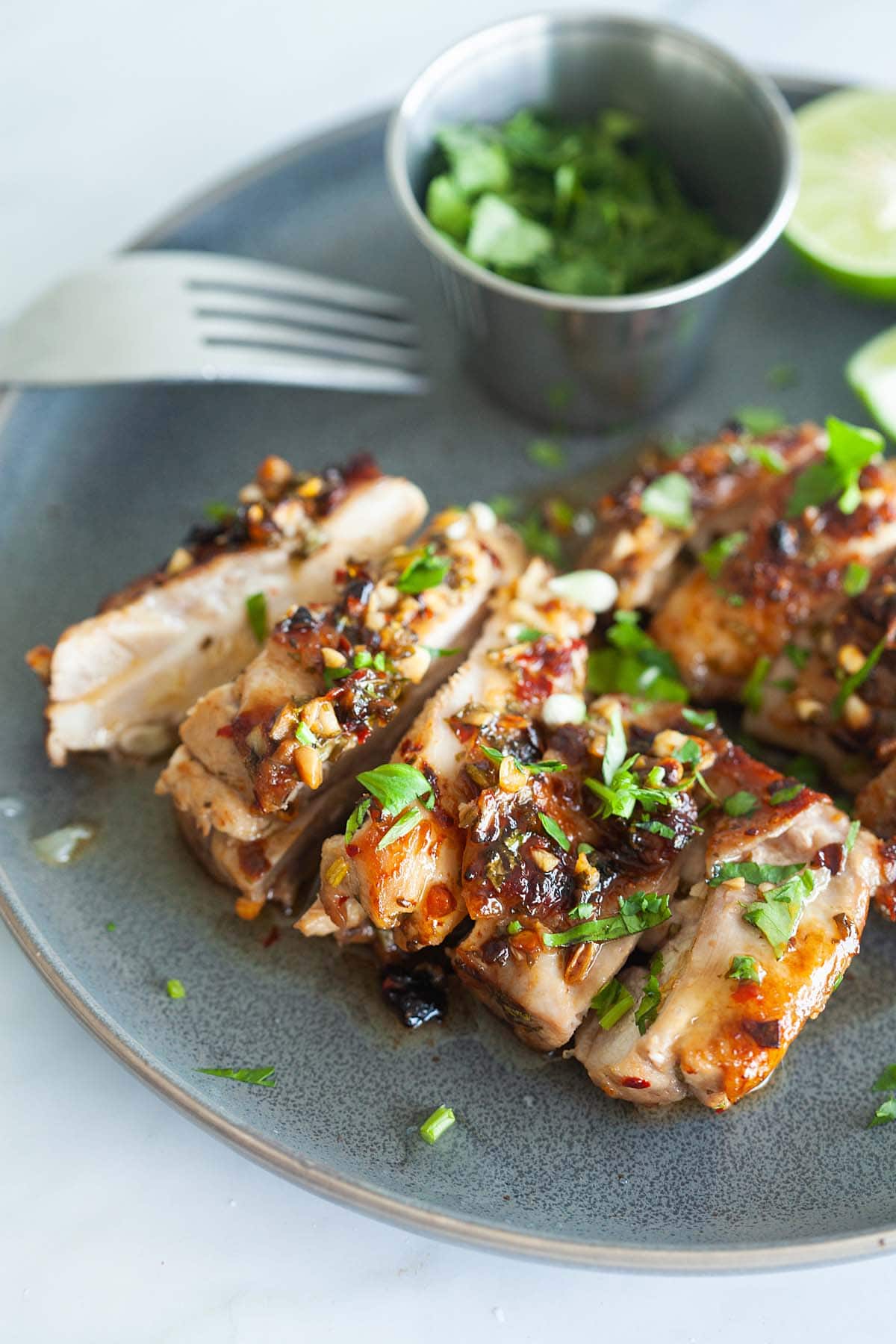 To make this easy recipe, first you marinate the chicken for 15 minutes, then pan-fry in a skillet for a few minutes before baking it for 20 minutes. It's that easy!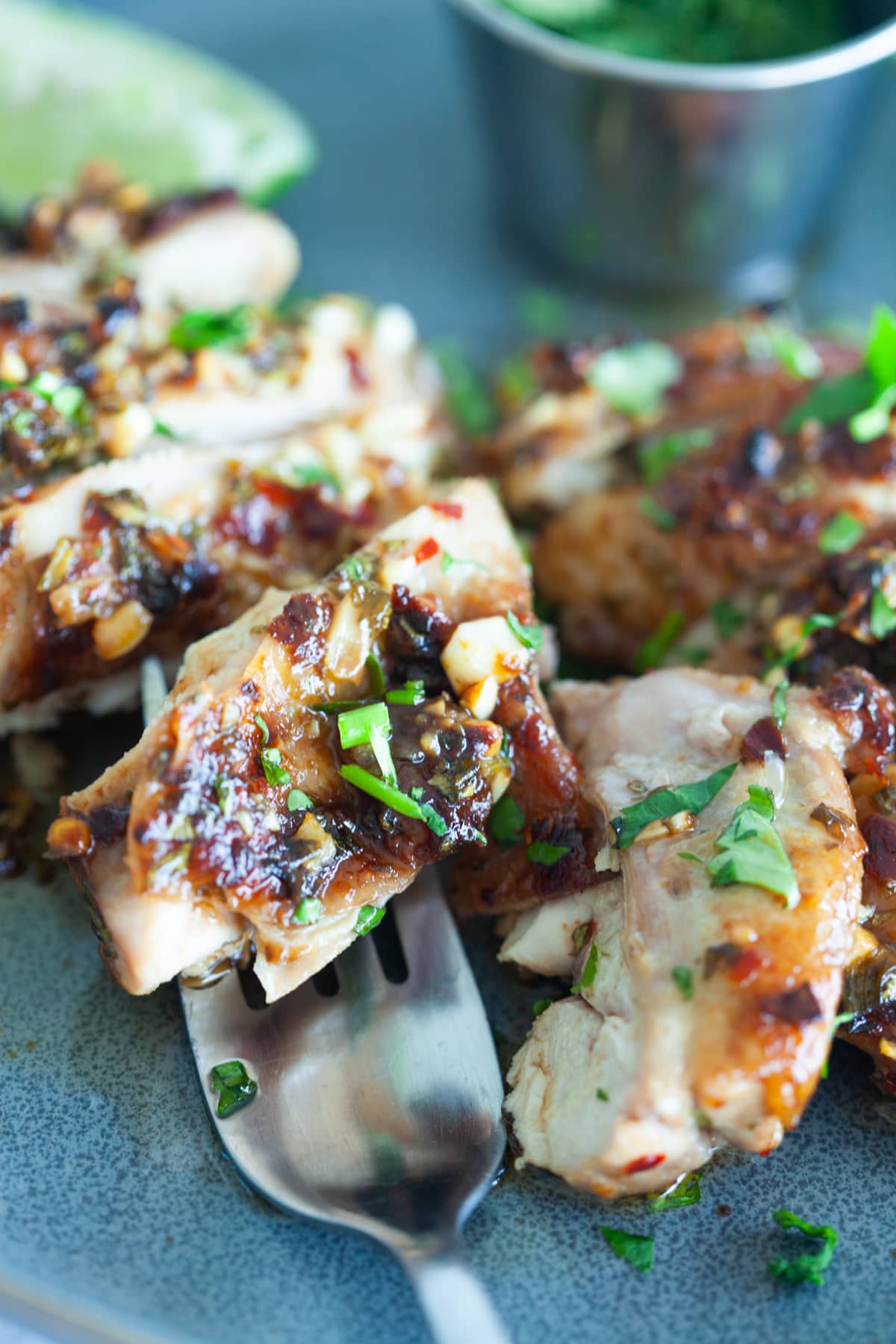 Other Recipes You Might Like
The Ingredients for the Marinade
The marinade is the soul of this dish. It calls for everyday ingredients that you already have in your pantry:
Olive oil. This will keep the chicken moist and juicy.
Garlic.
Cilantro, stems and leaves.
Lime juice.
Red chili flakes.
Salt.
Cook's Tips
To make sure that you have the best results, follow the tips below:
Use chicken thighs, which are more tender, moist and juicy. Buy bone-in and skin-on chicken thighs and debone it. Click on this post to learn how to debone chicken thighs, with video guide.
You can use skinless and boneless chicken breasts or chicken thighs, if you like.
Use freshly squeezed lime juice if you can. You will love the fresh and citrusy aroma from the lime juice.
Use lots of cilantro stems and some cilantro leaves as there is a lot of flavors in the stems.
Pan-fry the chicken on a skillet first, to make sure that the skin is browned and crispy before baking the chicken in the oven. This extra step turns your cilantro lime chicken from good to exquisite.
What Dishes to Serve with this Recipe?
For a wholesome meal and easy weeknight dinner, I recommend the following recipes.
How Many Calories Per Serving?
This recipe is only 404 calories per serving.
5 Secrets to 20 Min Dinners
Get tricks for quick & easy meals!
Yield: 3 people
Cilantro Lime Chicken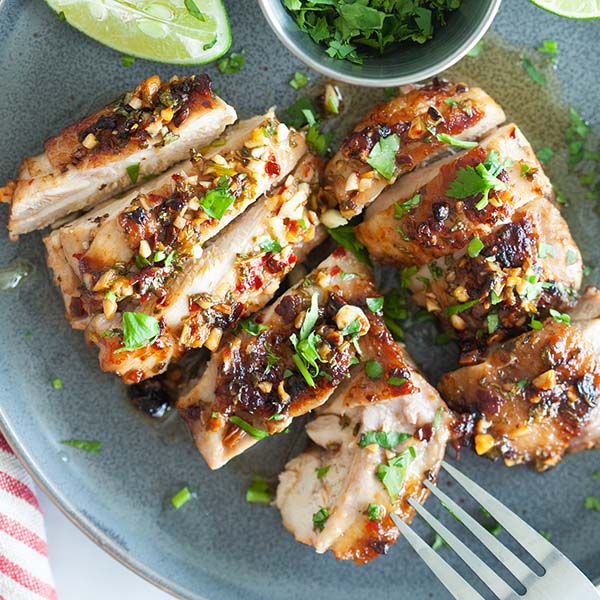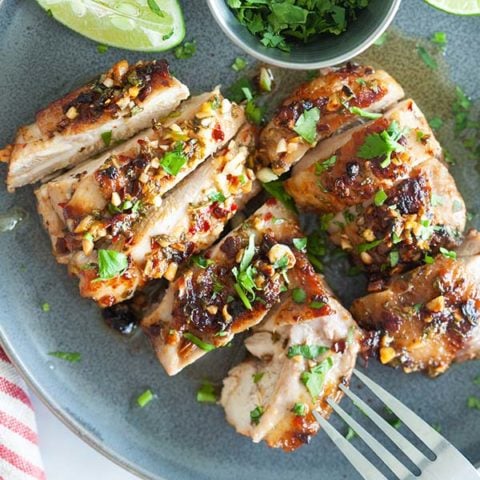 Cilantro Lime Chicken - juicy Mexican-inspired chicken marinated with cilantro, lime juice and garlic. You can pan-fry, bake or grill the chicken with this easy recipe!

Prep Time 5 minutes

Cook Time 15 minutes

Total Time 20 minutes
Ingredients
1 1/2 lbs. (0.4 kg-1 kg) skin-on deboned chicken thighs
lime wedges, for garnishing
chopped cilantro, for garnishing
Marinade:
3 tablespoons olive oil
4 cloves garlic, minced
4 tablespoons finely chopped cilantro stems and leaves
2 tablespoons lime juice
1 teaspoon red chili flakes or more to taste
1/2 teaspoon salt or more to taste
Instructions
Preheat oven to 375°F (190°C).
Whisk all the Marinade ingredients together in a big bowl, mix well. Add the chicken into the Marinade, stir to coat well. Marinate for 15 minutes but best for 2 hours.
Heat up a skillet and pan-fry the chicken with the skin-side down until slightly browned. Turn over and pan-fry the other side of the chicken until slightly browned.
Transfer the skillet into oven and bake for 20 minutes. Transfer the chicken and the Marinade residual (after baking) to a serving platter (discard the oil), squirt some fresh lime juice and garnish with cilantro, serve immediately.
Notes
Make sure you use an oven-safe skillet or pan before baking the chicken in the oven. You may also grill the chicken. For the chicken, you can use boneless and skinless chicken breast/chicken thighs or bone-in chicken thighs.
Nutrition Information
Serving Size
3 people
Amount Per Serving Calories 404Total Fat 23gSaturated Fat 4gCholesterol 215mgSodium 602mgCarbohydrates 3gFiber 1gSugar 1gProtein 44g